Xinhua:More Tibetan women find increasing sense of self-worth
发布:2019年1月3日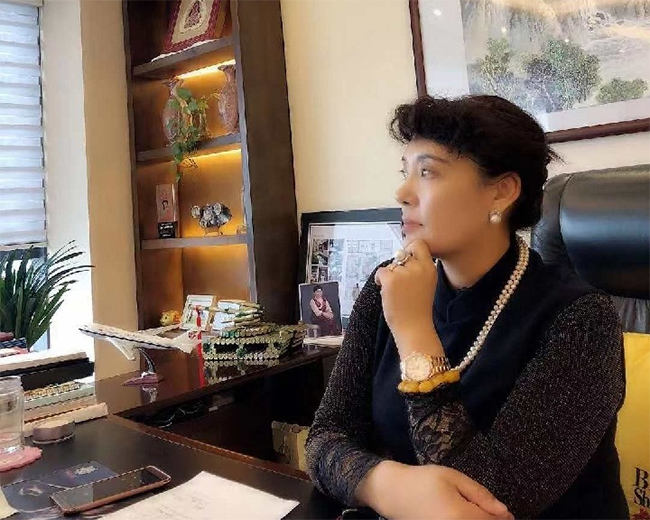 Tashi Tseji (Photo provided by Tashi Tseji)
Tashi Tseji is a successful Tibetan businesswoman in northwest China's Qinghai Province. Hiring more than 500 female employees in her company, the "iron lady" says she is trying to help more Tibetan women find themselves.
Tashi was born in the Tibetan Autonomous Prefecture of Yushu, where about 99 percent of residents are ethnic Tibetans.
At over 4,200 meters above sea level, Yushu is a major production area of caterpillar fungus, an expensive ingredient in traditional Chinese medicine. Tashi and her family used to dig the fungus on the grassland at harvest time.
Tashi was a civil servant in a government department in Yushu in the 1980s.
"As the reform and opening-up spread across the country, interaction between the remote Tibetan areas and the outside world increased rapidly. I took part in many trade fairs to introduce and promote local specialties like caterpillar fungus, pilose antler and rhodiola rosea to buyers from across the country, because I'm fluent in Mandarin," Tashi said.
She began to run a caterpillar fungus company in the city of Lanzhou, capital of northwest China's Gansu Province in the late 1990s. It was not easy to run a company for a woman at that time, let alone a Tibetan woman.
"I experienced quite a lot of ups and downs. My enterprise was once looted and faced financial problems. I even considered giving up," Tashi said.
However, her business grew steadily, and there are 11 subsidiaries and more than 30 shops scattered in Qinghai, Gansu, Shaanxi, Beijing, Shanghai, Zhejiang and Guangdong.
Being awarded titles such as "excellent female entrepreneur in China" and "top 10 businesswomen in China," Tashi says she would like to offer opportunities to more Tibetan women.
Among the 750 workers in Tashi's enterprises, over 75 percent are women.
"Women must increase self-knowledge, recognize themselves and make the right judgment for the situation and their career, to show their talent and intelligence, and prove their self-worth," she said.
Besides more influential Tibetan businesswomen emerging, an increasing number of Tibetan women have been seen playing an important role in various sectors, including politics, education, arts and sports over the past decades.
Tsega, 28, works for a high-end hotel in Yushu.
"My name was Tsultrim Drolma, but my family changed it to a male name Tsega after a deadly earthquake killed my husband and several other relatives in 2010," said Tsega, who also suffered serious injuries but recovered one year later.
"I had no expectation for my life. But as a mother I had to find a job, and I worked very hard," she said.
Tsega made a living by doing odd jobs, such as selling clothes, smart phones and seasoning. She finally found a job in a hotel and realized it was her ideal career.
The hardworking woman became a senior sales manager step by step from a waitress, after five years.
"I love my job and cherish each training opportunity that my hotel provides for me in cities like Shanghai and Nanjing. I understand that there's a big gap in the hotel industry between Yushu and developed cities, and I've been making efforts to raise our staff's service awareness," she added.
Tsega said her hotel had hired a number of graduates over the past few years. "I really enjoy working with them. They possess professional hotel management knowledge, and I can learn from them," she said.
Achung is a writer focusing on the development of the Tibetan regions.
"Impacted by the traditional views and production and living style of Tibetan ethnic group, Tibetan women rarely had a chance for education and work in the past," Achung said.
"Since more Tibetans have received education, and with the development of agriculture and husbandry, a lot of Tibetan women were freed from heavy housework and turned an eye to themselves," the female writer said.
"It is important to emancipate women from old ideas, so that Tibetan women can realize their own values and pursue all the beautiful things in the world."